Review: Zeemote JS1

Written in June 10, 2009 - 🕒 4 min. read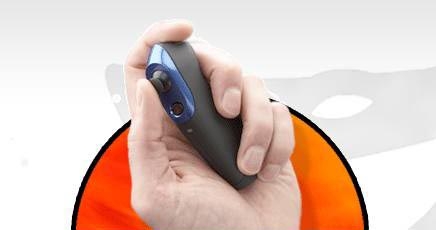 When I bought Zeemote I got surprised at first sight: The box is really pretty and comes with the manual, two AAA batteries, Zeemote (duh) and a carabiner to be used as a key chain.
The moment I installed Zeekey and tried Zeemote for the first time, I got really surprised, I admit that I didn't expected it to work so good, with such a good response, and Zeekey is a very easy program to use. But to get the inner works, only with time!
I spent almost a month playing several hours with Zeemote a bunch of games that I have on my Nokia E51 and I'll make a review talking about the pros and cons of Zeemote. Soon as I grabbed my Zeemote, I had a little problem: Batteries. Well, two AAA batteries are a problem, they're expensive and don't last long, but with time, I've realised that they last a lot with Zeemote, but is always better to buy rechargeable batteries.
To synchronize Zeemote with your cellphone is a really simple process, you have to install Zeemote's software ( Zeekey ), which has Portuguese language, and in it you'll have a simple step-by-step explaining how to connect Zeemote on your device. After you connect it, let's go to the configs: You can create lots of different profiles, each one of them with its own key mapping personalized to the game you want to play. After the key mapping is done, you just have to select the profile you want to use and let Zeemote running in background: You're now free to run any game you want to. When the game started, I got surprised: Zeemote's response is unbelievably fast, without any delay, it's just great!
I spent 20 minutes playing and I admit that at beginning was a little bit difficult to get used to Zeemote, but as time passed, and after a lot of key re-mapping, I got to the perfect configs. Despite the fast response, bluetooth is not a really fast network, so what happened to me was that Zeemote's response friezed for a second and didn't answer my commands, but as I was with my cellphone in the other hand, I kept playing with it, and within a second Zeemote was good to go again.
Unfortunately that happened a few times and messes up your game, specially in a crucial part when a lot of commands are sent at the same time, but I believe that this problem can be resolved in the next versions of Zeekey. Another problem that I found was because of the games themselves: Companies don't create games thinking in Zeemote (obviously), so some commands, like to move your character diagonally, are not 100% understood by the game itself, which leaves the movement kind of confuse. I don't know if you can implement an improvement on Zeekey about this problem, sadly.
Two AAA batteries last quite a long time on Zeemote, in this month that I've used it I didn't have to change them not even once, and I played quite a long time, I carried Zeemote everywhere. Well, that was kind of a con, I was thinking: To carry Zeemote from here to there all the time. Who wants to walk with a joystick in their pocket? There you think "that's a problem".
I spent the first few days carrying it in my pocket, and then I got used to it and now I can say that it didn't bother me at all, actually Zeemote is now part of my key chain. It's light and quite small, practically the size of those first Sony MP3 players. My experience with Zeemote in the last month was really good and I believe it's only going to get better. Well, if you consider yourself addicted in video games, buy a Zeemote. Is there a better thing than play Super Mario World in some boring class? 😅
Like in every good review, I have to give it a score, so there it goes: 8.0.
Final score: 8.0
The videos below show myself playing some games with Zeemote, you can see that its response is great.
Resident Evil: Degeneration:
Crash Bandicoot Nitro Kart 3D:
Tags:
---
Post a comment
---
Comments
Pablo Pirata on 10/16/09
Hello OPe! Very soon i'll post some more gameplays. Do you have any game sugestion? Bye!
OPe on 10/15/09
Would love to see reviews of new games that play good with the zeemote!!!!
Rissi on 8/26/09
Try the tv-out function with the zeemote, it's WICKED!